Pro

ject

World's leading self drilling anchor bolt manufacturer.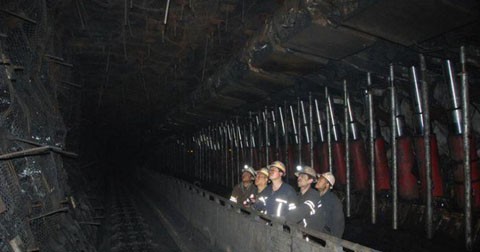 The Application of Self Drilling Anchor System in Daliuta Coal Mine
Daliuta Coal Mine is a super-huge type which belongs to Shendong Coal Group and has 20,000,000 tons of production every year. It is located at the near of Wulanmulun River, Daliuta Town, Shenmu County, Shaanxi Province. It consists of Daliu Coal Well and Huojitu Coal Well, the area is about 189.9 square kilometers, the coal reserve is about 2.32 billion and the recoverable reserve is about 1.53 billion. The coal there has the features of low-ash, low-sulphur, low-phosphor and high-calorific value, which is the superior steam coal, chemical coal and metallurgical coal.
The production and efficiency of Daliuta coal mine has reached the advanced level in the world, and its security, technology and business scope are all the top level in the mining industry. Behind these, the self drilling anchor system plays an indispensable role.
The natural advantages provide it good condition of high-yield and high-efficiency. There are 3 commercial beds, and each bed is about 4-6 meters thick. Self drilling anchor system provides not only the higher bonding stress, but also good-supporting effect. The way of exploitation is simple, the speed is fast, the period is short, the cost is low and the return is quick.
To improve the entire capacity of production, the ancillary facilities of self drilling anchor system are also used. Rock drill adapts to the conditions with hard rock of f=8-18. Anchor net prevents the collapse and injection pump are used with self drilling rock system to ensure the effect of permanent anchoring.
Contact us now if you have any questions about our company and products. Any of your inquiry and suggestion will be highly appreciated. We will retain your information completely private.