Pro

duct

World's leading self drilling anchor bolt manufacturer.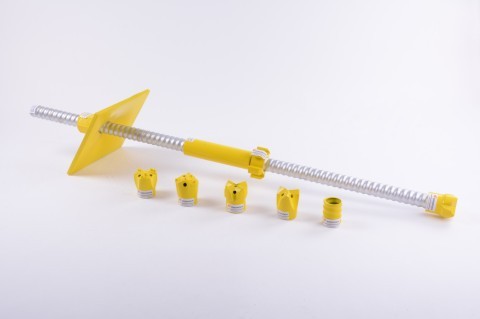 Introduction:
Duplex coating rock bolt is a supporting method with better anti-corrosion effect, which combines hot-dip galvanizing method with epoxy coating method together, which hardens the surface and prevents coating from peeling off.
Feature:
1. Thick hot-dip galvanizing coating, dense combination, high anti-corrosion and good toughness.
2. Benefits of epoxy coating:
1) High adhesive force to the steel substrate.
2) Excellent physical properties and chemical stability.
3) Excellent toughness and wear resistance.
4) A wide range of temperature adaptability.
5) Fine insulation and resisting anode dissolution.
3. Its anti-corrosion of the combination of two methods can keep more than 100 years.
Technical data:
Category
Type
Ultimate Tensile Strength Mpa
Yield Strength
Mpa
Hot-dip galvanized zinc 
coating thickness(μm)
Epoxy Layer Thickness (μm)
Thread
Standard
Executive 
Standard
Hot Rolled Ribbed Rebar
D25
630
500
≥70
≥60
GB/T1499.2-2007
1.Hot-dip galvanizing meets ISO1461
2. Epoxy coating: bending properties meet ISO1519, impact properties meet ASTMD2794, adhesion meet ISO2409:2007
Hollow Bar
R25N
730
550
≥70
≥60
ISO10208
Hollow Bar
R32N
700
580
≥70
≥60
ISO10208
Contact us now if you have any questions about our company and products. Any of your inquiry and suggestion will be highly appreciated. We will retain your information completely private.