New

s

World's leading self drilling anchor bolt manufacturer.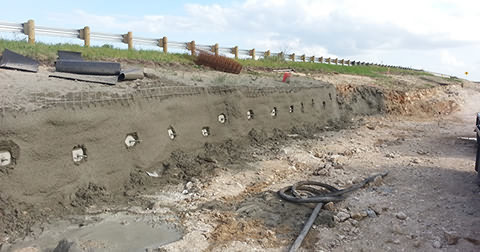 Main Functions of Geotechnical Anchoring
The fundamental principle of geotechnical anchoring is to transfer tension of structures or keep self stability of excavation face in stratum, relying on shearing strength of self drilling anchor's surrounding stratum.
The main functions of geotechnical anchoring are:
1. Providing resisting power on structures for bearing external load. It directs at point contacting stratum.
2. Producing compressive stress area at anchored stratum or having reinforced effect on rocks.
3. Reinforcing and strengthening intensity of stratum. Also it can improve other mechanical properties in stratum.
4. When self drilling anchor(Perno Autoperforante) passing anchored structures, prestressing force can also be produced on structures.
5. Through self drilling anchor, structures and rocks can be chained together, forming a collaborated composite structure, which makes rocks bear effective tensile and shearing force.
Contact us now if you have any questions about our company and products. Any of your inquiry and suggestion will be highly appreciated. We will retain your information completely private.