New

s

World's leading self drilling anchor bolt manufacturer.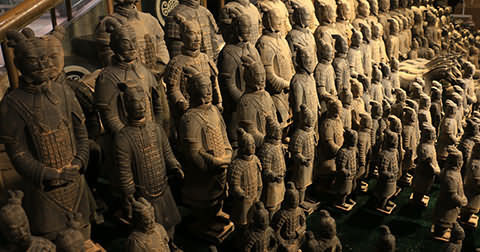 The culture tour of Sinorock employees
On October 20-22, 2017, The stuff of Sinorock product Department and equipment technology Department carried out a two-day Xi'an tour. The trip includes Muslim Snack Street, Huaqing Hot Spring, Li Mountains, Qin Shi Huang' Buried Sculpture Legion, Shanxi History Museum and The Big Wild Goose Pagoda, a total of six famous tourist attractions of the ancient city of Xi'an.
When they arrived in Xi'an at 4:00 PM, after arranging accommodation, they visited the local famous snack street of Xi'an Muslim Snack Street and tasted the local traditional snacks. On the morning of 20th, They visited the Huaqing Hot Spring and Li Mountains, which is said to be associated with Emperor Xuanzong and Yang Guifei. Huaqing Hot Spring was the place to bathe for Yang Guifei. And the miserable love story of Emperor Xuanzong and Yang Guifei occured at the foot of Li Mountains. On the afternoon of the 21st, they mainly visited The Qin Shi Huang's Buried Sculpture Legion, which is made up of thousands of sculptures of soldiers buried. And it's famous for the giant scale and spectacular style. On the 22nd, they visited Shanxi History Museum and The Big Wild Goose Pagoda. They saw precious ancient relics and acquisitions in the museum and learned about the greatness of the ancient Chinese civilization of 5000 years. The Big Wild Goose Pagoda built in the Tang Dynasty, which is said to build for the sake of Xuanzang's Tibetan classics. Meanwhile, due to the long history of the pagoda, it has been listed in the World Heritage list.
The two-day Xi'an tour, not only made employees aware of the extensive and profound of the Chinese culture, but also fostered the close relationship among employees, enhanced the enterprise cohesive force. Therefore, there has been a positive effect for the future work and work efficiency.
Contact us now if you have any questions about our company and products. Any of your inquiry and suggestion will be highly appreciated. We will retain your information completely private.