New

s

World's leading self drilling anchor bolt manufacturer.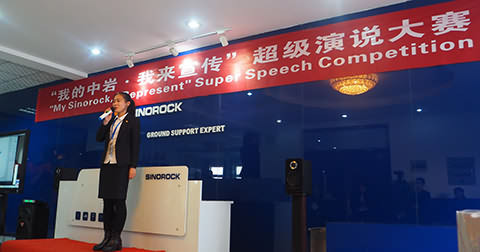 "My Sinorock®, I Represent" Super Speech Competition
Nov. 26, 2016, it's a Saturday for relaxing, while the atmosphere in office of Luoyang Sinorock Engineering Material Co., Ltd. was quite grand. We held "My Sinorock®, I Represent" Super Speech Competition.
Every staff participated in this competition actively and enthusiastically, every participant was full of passion and every speech content focused on Sinorock®'s features, which includes Sinorock®'s culture, team, product, equipment, service, etc. Every staff expressed their true sentiments. Under the music accompaniment, it's more infectious.
Forging Sinorock® distinctive culture, building Sinorock® harmonious atmosphere, and organizing Sinorock® team development, we believe that only every staff makes concerted efforts, Sinorock®'s development and individual growth will be around the corner.
Contact us now if you have any questions about our company and products. Any of your inquiry and suggestion will be highly appreciated. We will retain your information completely private.