New

s

World's leading self drilling anchor bolt manufacturer.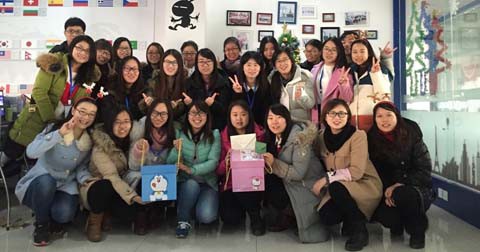 Christmas Carnival in Sinorock®
Christmas arrived annually and Sinorock® had also worn Christmas clothes early to welcome a new year of 2016, instead of former Halloween's decorations. After changing its appearance, Sinorock® was full of strong Christmas' atmosphere and New Year's dense air had around the whole office.
The day before Christmas, every staff of Sinorock joined in decoration activity and they wrote down their wishes and blessings on wish cards. On the morning of December 25, Marketing Department entered office early, prepared coffee, greeting card and gift and waited to give surprise and warm to every staff. Every desk had also been put present, was it from Santa Claus in advance?
At 4:00 p.m., lamps in Sinorock's office were put out suddenly and everyone received an e-mail about Christmas blessing, which marked the official beginning of Christmas carnival in Sinorock. We sang songs, danced, played games and gave present to each other. Everyone had a great time. At last, Santa Claus appeared on the stage crowded by several elves, they delivered gifts and apples. Taking pictures marked the end of carnival.
This activity was quite meaningful for Sinorock®. It enriched staffs' spare-time cultural life, enhanced internal communication, promoted company's cohesion and increased staffs' sense of belonging.
Merry Christmas and Happy New Year!
Contact us now if you have any questions about our company and products. Any of your inquiry and suggestion will be highly appreciated. We will retain your information completely private.